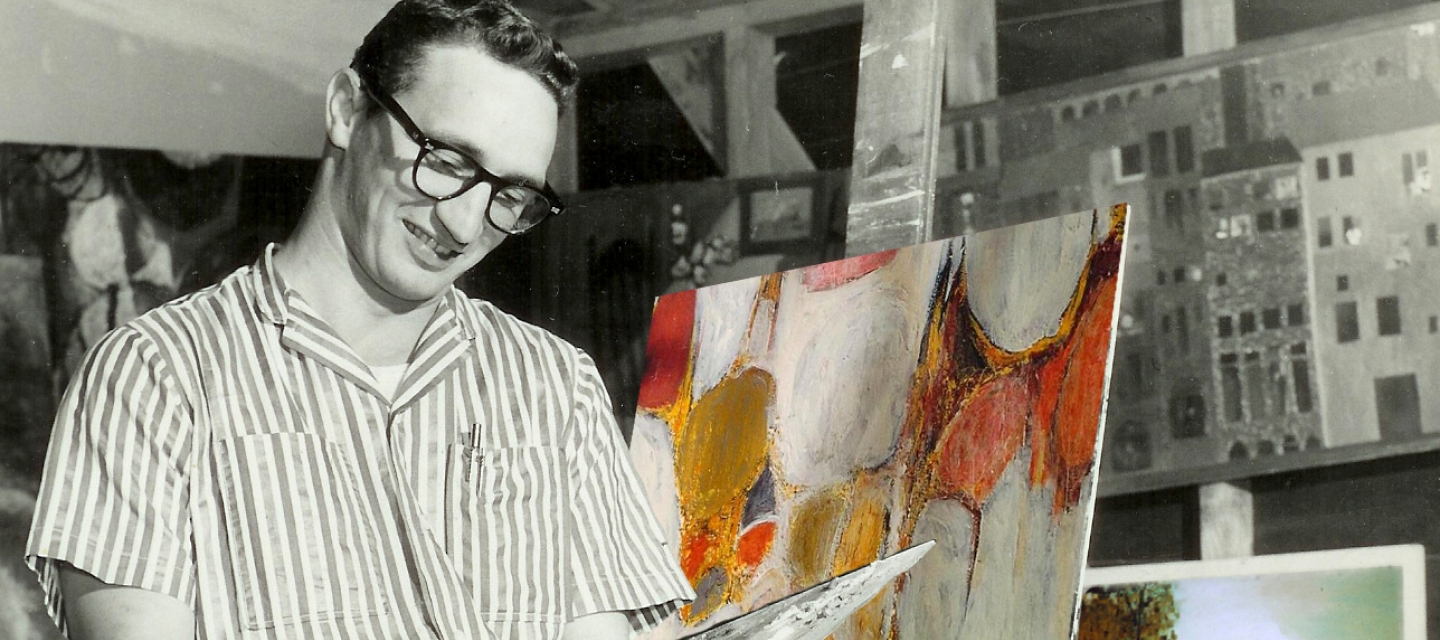 The Robert Curtis Wilson Collection at Buffalo State
The Robert Wilson taught at Buffalo State from 1963 through 1986.  The Robert Wilson Painting Collection consists of 36 landscapes and abstract works, donated to Buffalo State by his widow, Marilyn Wilson. The works are located in buildings around the campus. 
As a gift to the College, The Robert and Marilyn Wilson Advanced Painting Studio in Upton Hall was established in 2013. It contains a newly-refurbished studio space, equipment, and provides a yearly scholarship to a student excelling in the Fine Arts painting program.
Marilyn Wilson, Education, B.S. ('71), M.S. ('84), Buffalo State, donated (2000-2002) a collection of 32 works to Buffalo State College. Other donated collections are located at: The Burchfield Penney Art Museum, NY; The Sullivan Indiana Library Collection, IN; The Harrison County Library Collection, MI; The Oviatt Library Collection at California State University at Northridge, CA; Pierce College, CA; and the Los Angeles County Museum of Art Collection, CA.
Marilyn Wilson and daughter Andrea, a graphic Illustrator, continue to play an active role in the lives and professional goals of Buffalo State students in the Fine Arts program. They remain committed to giving back to the community of Buffalo State College, in the memory of Robert Curtis Wilson.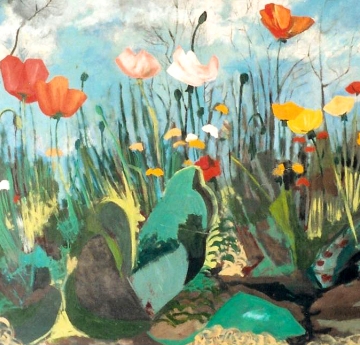 "Poppies"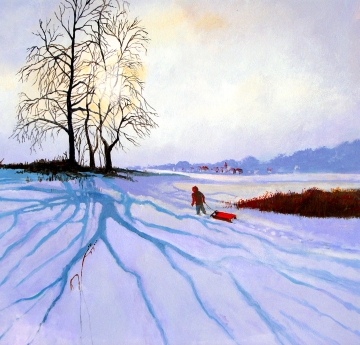 "Rosebud"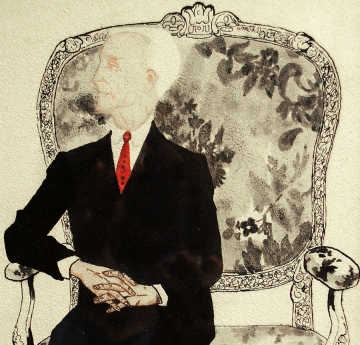 "Seated Figure"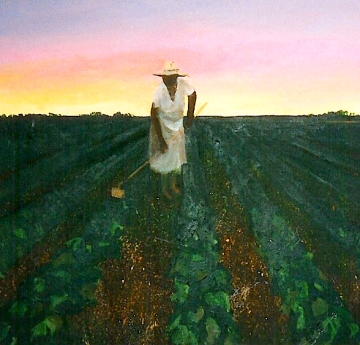 "Sunrise Cottonfield"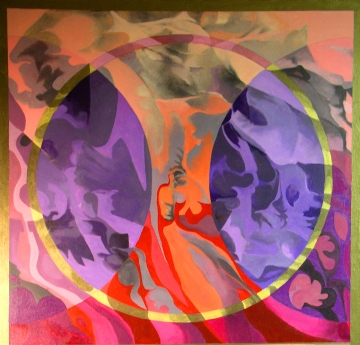 "A Question of Separation"
Robert Curtis Wilson
Robert Curtis Wilson was an artist, writer, and educator born in Sullivan, Indiana, on September 3, 1926. As a young man he served in the European branch of the Armed Forces during WWII, before settling in California. Taking advantage of the G.I. Bill, he pursued a Bachelor's Degree from Los Angeles State College. He also went forward to gain his Master's Degree from California State University. Before entering the field of education, he worked as a commercial artist and technical illustrator for companies such as Bendex Engineering and Douglas Aircraft. It was during this time that he established himself as one of the up-and-coming young artists of the Los Angeles area. He exhibited his works in many local, statewide, and national shows; winning numerous awards for his drawings and paintings. He was listed under Contemporary American Painters in the Bibliographic Files of Venice and Who's Who in American Art and Antiques.
He began his teaching career at Northridge Junior High School, later becoming an Instructor of Art at Los Angeles Pierce College. A chance encounter with Dr. Stanley Czurles at a national art education conference led to a teaching position as an Associate Design Instructor at the State University College at Buffalo in 1963.
For the next 23 years he taught a variety of art education and design courses, most notably Design 101 and 102. During that time he published several books, "An Alphabet of Visual Experience" (1966) and "The Role of Crafts in Education" (1969). He organized and taught several regional statewide design workshops and summer art education workshops, which ultimately led to the production of instructional films and television programs. He was also a frequent speaker and juror at many art conferences and shows at both local and state level colleges.
Besides teaching, he served as chairman on several curriculum, by-laws and personnel committees, as well as the Dean's Advisory Council. In 1965, he was chairman of the Grants and Awards Committee; which was responsible for opening grants from the State University Research Foundation to the Art Education community. He was Faculty Advisor to the Fine Arts board for three years, supervising two Critic's Choice field trips to New York City, while also coordinating the production of college-wide Convocation of the Senses in 1969. He also served as advisor to the college yearbook, "The Elms", from 1966 to 1969.
Along with his academic publications, he wrote several unpublished books of historical fiction, two murder mysteries, several novels, and eight children's stories. He also researched and published numerous magazine articles and served as Science Editor for Mankind Magazine in the early 1970's.
Besides his artistic endeavors, he enjoyed many interesting hobbies and pastimes such as stamp collecting and restoring 19th century landscape paintings. He was also an avid collector of primitive sculpture and hand-crafted arts acquired from his travels around the world.
Professor Wilson retired from Buffalo State College in 1986 and moved part-time to the Mississippi Gulf Coast where he continued to paint and write. He died on October 9, 1996 at his Gulfport home and was laid to rest in the Biloxi National Cemetery, in Mississippi.
Returning to California from the war in 1947, Robert found himself immersed in the emerging Abstract Expressionist Movement. He experimented with acrylic paint, a newly emerging media, mixed media such as burlap, paper and wood. He also combined textural additives such as sand, pencil shavings or coffee grounds to his paint for new textures. 
He created large scale canvases of biomorphic shapes and arbitrary colors that referenced the places where he lived and the unique experience of Southern California. To create unusual patterns in his work, he developed a style of spraying paint through plastic, metal screens and die-cut papers to create texture.
To create depth he often cut through the canvas to reveal another layer or added a second layer on top of the canvas. These works often represent a concept of place rather than a specific geographic area. 
As his abstract work progressed, a more stylized pattern of amorphic shapes emerged, suspended within upward curving lines. Most of these works are titled to reflect places where he lived and important life events. In later works, he began to incorporate what would become a recurring theme in his work. He incorporated specific lines of text from the works of William Butler Yeats as an element of line. 
At this time, early representative landscapes of his surroundings area begin to emerge within his works. Inklings of what would become his singular viewpoint begin to take shape; curving forms become hills, patches of color formed grass and earth, linear patterns become limbs and branches, brush print dabs as foliage, light and color define clouds and sky and the recurring theme of the road emerges. 
In the early 60's his abstract landscapes developed into a more stylized pattern of oval shapes, curving lines, layers of of flat arbitrary color and abstract textural patterns. He continued to incorporate mixed materials and poetic text as lines in the work.
During this time Robert was teaching as well as painting. His work was shown extensively in local, state and national exhibits as well as being represented by several galleries in the Los Angeles area. This is where his mature concept of landscape painting began to take form. Curvilinear lines, shallow freeform shapes and flat arbitrary colors become softened and mottled. Intricately detailed lines and brush dabs of color created abstracted leaf and foliage textures that diminished in size as they recede in the background. Different seasons, weather patterns, and time of day were as important as the landscape he was emulating. Unusual vast viewpoints, intense color, and sharp contrasts of light and dark contribute to an exaggerated level of realism that speaks to a dream-like moment of time and place within his work.
Along with these recurring elements and painting devices, certain repetitive imagery can be found throughout his body of landscape work. Among these are vast expanses of negative and ambiguous space: a horizontal line of color that represents a distant plane of illuminated land or water, a curving or refracted roadway, a circle in abstract works and the moon or sun in landscapes.
At certain times, he produced small series of abstract landscape works that picked up where the very early mixed–media landscapes of the late 60's ended. This is especially true of a series of works inspired by visits to Utah, Monument Valley and The Grand Canyon. He combined iconic landscape imagery with pure non-objective elements. 
Throughout the 1980's, panoramic viewpoints dominated his interest. He achieved this by painting one expanded view on 3 or 4 separate canvases which could be arranged in a row across one entire wall. It was also during this time, in the late 80's when he produced his largest landscape works. 
In terms of media, painting dominated the vast body of his work. However, drawing and watercolor works are prevalent throughout all of the periods of his artistic career and incorporate similar style characteristics techniques and thematic references.
While he was primarily known for his landscape works, his whimsical figurative drawings and paintings were prevalent throughout the major periods of his life work. Early paintings of the figure reflect his characteristic cartoon-like style depicting people engaged in some of his favorite pastimes–music, playing cards, games and people engaged in everyday situations. Portraits of family and close friends as well as self-portraits are frequently represented throughout his career. 
Reminiscent of the contemporary artist, Ben Shahn, his early line drawings, both figurative and abstract, were primarily concerned with the use of strong expressive lines using pen and ink, line and wash, felt tip pens and markers and mixed media. 
Mature Style: 1990-1996
The biggest change in the 1990's was a switch from the use of acrylic paint to water miscible oil colors. The ability to extend the drying time of the paint allowed for a more complex depth of form and an ability to execute more intricate detail. You can also see him returning to subjects and places that he had explored in the past and returning to previous works that he felt were not quite resolved. 
During the last decade of his life, he felt the need to find one last region that his work had not covered. In 1994, he set up a home and studio in Gulfport, Mississippi. He began painting the rural and coastal landscapes of the Gulf Coast region. Upon his death in 1996, the majority of these works were donated to the Gulfport Library. They were destroyed by Hurricane Katrina in 2005.
Robert's work is the visual story of the places that he called home. Through his work one can sense his keen eye on the natural world around him and his attention to the forces of nature. In looking at his complete body of work one can trace the evolutions of his thoughts and ideas. He died in Gulfport, Mississippi on October 9, 1996 and is buried in the Biloxi National Cemetery. 
Robert Curtis Wilson was born in Sullivan, Indiana on September 3, 1926.
On Growing up in rural Indiana: "From the time I was old enough to run and hide, I played outside as much as possible. Most boys liked the outdoors, but the call of the fields, streams and woodlands was doubly strong for me. Outside, I was free to romp and play in any way I saw fit, free from the grasp of my mother and grandmother. I roamed the fields and forests freely with only my dog, Buddy, for a companion. He was my best friend and he knew all of my secrets. We were so close, that it was difficult to remember that he was a dog. Had I been asked at the time to choose between my mother, my grandmother, and Buddy, I would have had to think on that a while."
On his Father: "I never knew my father, mother divorced him before I was a year old. All I was ever told was that on the day of my birth, he presented himself at the hospital door leading a pony and a goat and smelling strongly of a particular kind of corn whiskey better known as sour mash. But, rather than think of him as an irresponsible drunkard, in my mind he stands out as a romantic figure, expressing a grand and noble exuberance on the birth of his first, and as it turned out, only son. It took me a long time to recognize the legacy he left me; that being different and perhaps unwilling to fit into the main flow of society was not necessarily a bad thing."
On his Grandfather: "I don't remember much about my grandfather except that he claimed to be part Irish, part Scottish and part Cherokee Indian of his mother's side. When everyone else was headed West, he migrated North from Texas to Sullivan, Indiana, which somewhat explains his terrible habit of playing the guitar and singing cowboys ballads at the top of his voice. Grandfather built our house with his own two hands in 1896. To me, our house was grand in comparison to other in town. But by today's standards, it was little more than a four-room shanty. We had a parlor, a dining room and two small bedrooms. The kitchen was in a separate building connected to the main house by a breezeway. There was no indoor plumbing but we did have electricity by the year I was born. Grandfather died when I was three leaving the family without a provider and heavily in debt. It was 1929, the stock market collapsed, and everyone but President Hoover knew we were in the midst of a great financial and spiritual depression."
On his Grandmother: "'Mom', as everyone called her, was more like a mother to me than my own mother. While my mother worked as the breadwinner of the family, my grandmother was the one who was always there to comfort me in the daily crisis that shook my world. She was [always there for] me, fed me and wiped up my spilt milk and I loved her fiercely. Even so, If Robert Louis Stevenson's 'Long John Silver' ever had a female counterpart, it was surely my grandmother. No one in their right mind would cross her except for me, and when I did, she sent me out to cut my own switch for a whippin'. Many times, I would return with a flower or a huge thorny tree limb. We would laugh so hard that she couldn't find it in her heart to deliver my punishment. When that didn't work, I would run out into the field and sit on the beehives. Not even she dares to catch up with me there."
On his Mother: "My mother was a heroic figure who everyday re-earned not only my love and affection, but my greatest admiration. The day she learned of her father's terminal illness, she was 21 years old. It was not until I was about twelve years old that I understood how completely she had sacrificed her  own personal happiness to fulfill our needs.  Mother had to work 52 hours a week at the local five and dime store. Her salary not only supported me and her parents, but her two sisters and a younger brother. I adored her and was so impressed with the way she faced adversity by taking over the responsibility of supporting the entire family when she herself was at the threshold of her own life."
1943-44 Seeking a better job, Robert and his mother moved to Los Angeles, California. Faced with the certainty of being drafted when he turned 18 and not yet having completed his high school education, he decided to return to Sullivan to earn his high school diploma.
On His Schooling: "I knew that if I were to become a reasonably productive person in life that I would have to finish high school. [Otherwise] be drafted with the possibility of never receiving a diploma."
On the value of an education: "I doubt that I would have never understood what an education could be if it weren't for my sophomore English teacher Miss Amelia Powell. I liked most of my teachers and despite the fact that throughout most of my school years I was a bit of a troublemaker, they seemed to like me...except for Miss Minnie Lyons who must have paddled my butt everyday in the third grade and Lord knows, I did deserve it. But, Miss Powell was different. She made her subject so fascinating you couldn't help but become involved, and yet, she set her expectations just challenging enough that you were forced to exert some mental effort to succeed." 
Robert returned to Indiana, to finish his education, supporting himself by working at the local chicken plucking factory. After graduation he was drafted into the European division of the Army and was discharged at the end of the war in 1947.
Returning to the West Coast at the end of WWII, he took advantage of the GI Bill and enrolled in a small community college in California.
"I have always liked to draw, but it wasn't  until I got out of the service that I realized I had a talent for painting. So, I decided to take some art courses and started entering my work in local shows and competitions."
Between 1955-1960, Robert earned an Associate's Degree from Santa Monica City College and a Bachelor's and Master's Degree from Los Angeles State College, now the California State University at Northridge. (CSUN)
In 1956 he received his teaching certificate. He taught Art at Northridge Junior High School and later at Los Angeles Pierce College.
On being an artist: "I believe there is artistic ability in everyone, it just needs development. Quite often, it starts as a hobby. Then, the hobby becomes demanding and all-absorbing. Eventually, the artist learns to live with it and his chosen artistic outlet it becomes  part of his everyday life."
In a 1960 graduation article about Robert, The Valley Sun Dial states that "there is one award not yet won by the artist. He hopes to have one of his paintings become part of the permanent art collection at Valley State."
After his death, while sorting through his papers, Marilyn, his widow, found the article with the photo of Robert seated before his painting "California Baroque". She contacted the library at California State University at Northridge, to see if she could make his wish come true. This was the beginning of the collection of 36 paintings and drawings at the Oviatt Library at CSUN.
Robert Wilson Graduation for Associates, Associates Degree, Bachelors Degree (click to enlarge)
Oviatt Library at Valley State, Exhibition Invitation
California State University at Northridge Oviatt Library Collection
The Poetry of William Butler Yeats
*The Song of Wandering Aengus ( Inspiration for California Baroque)
I went out to the hazel wood,
Because a fired was in my head,
And cut and peeled a hazel wand,
And hooked a berry to a thread;
And when white moths were on the wing,
And moth-like stars were flickering out,
I dropped the berry in a stream
And caught a little silver trout.
When I had laid it on the floor
I went to blow the fire aflame,
But something rustled on the floor
And someone called me by my name:
It had become a glimmering girl
With apple blossoms in her hair
Who called me by my name and ran
And faded through the brightening air.
Though I am old and wandering
Through hollow lands and hilly lands,
I will find out where she has gone,
And kiss her lips and take her hands:
And walk among long dappled grass,
And pluck till time and times are done
The silver apples of the moon,
The golden apples of the sun.
The California State University at Northridge at Oviatt Library Collection
 
2003 Collection
California Baroque, circa 1960, acrylic and mixed media on masonite, 36" x 48"
Landscape with Poppies (on the backside of California Baroque), circa 1950's, acrylic on masonite, 36"x 48"
 
2004 Collection
San Fernando Hills, 1990, acrylic on canvas, 24"x 48"
Life Cycle, 1991, acrylic on canvas, 49"x 49"
 
2005 Collection
The Embrace (Eternity is Passion) circa 1970"s, acrylic and mixed media on canvas, 48"x 48"
In the Mind's Eye (The Double Visio of Michael Robartes), acrylic on canvas, 30"x 36"
California Mountain Vista, circa 1990's, acrylic on canvas, 34"x 44"
High Sierras, circa 1990's, watercolor on paper, 16"x 20"
 
2006 Collection
California Vista, 1993, acrylic on three 16"x 20" canvas panels 
Two Coyotes, 1995, acrylic on canvas, 24"x 36"
Poppy Field, 1994, acrylic on canvas, 24" x 30"
Pacific Shore, circa 1990's, watercolor on paper, 16"x 20"
 
2007 Collection
Between Two Extremities, circa 1970's, acrylic on canvas, 36"x 40"
A Question of Separation, 1990, acrylic on canvas, 30"x 42"
Road to Yosemite, 1981, acrylic on canvas, 18"x 24"
Moonlight Reflection, 1989, WATERCOLOR ON PAPER, 14"x 16"
 
2009 Collection
Yucatan, 1978 (back Celebration, 1994), acrylic on masonite, 25"x 35"
Untitled Abstract, circa 1950's, acrylic and enamels on masonite, 36"x 48"
Moon Cycle: Waxing and Waning, 1990, acrylic on canvas, 28"x 34"
Vista with Self-Portrait (4th panel belonging to California Vista Series), 1993, 16"x 20"
2011 Collection
Desert Series #1, circa 1990's, acrylic on canvas, 24"x 36"
Desert Series #2, circa 1990's, acrylic on canvas, 24"x 36"
Desert Canyon, circa 1990's, acrylic on board, 20"x24"
Fallen Branches, 1971, acrylic on canvas, 24"x 30"
In the early 1990's the road "called" Robert and he set out to discover new inspirational landscapes. He settled on the centrally located town of Gulfport, Mississippi, strategically located between the Florida panhandle and the Louisiana Bayou area. There he bought a small home and converted it into painting studio and additional workspaces to concentrate on some of his other hobbies and interests such as writing  and illustrating children's books.
708 Rosemary Drive, Gulfport, MS | With Marilyn on the Gulfport beach | July 1996
With his health failing, Robert died on October 9th, 1996, but not without finishing some of his most mature work and a final poem.
1. "Bob's Sled" 1995, acrylic on canvas, 18"x24", Collection of M. Wilson 
2. "Forest Shadows" 1996, acrylic on canvas, 48"x72", Collection of M. Wilson
In 1997, Marilyn Wilson donated 15 works from his Gulf Coast area works to the Gulfport Public Library. In 2010 Hurricane Katrina struck the gulf coast. The Library and the The Robert Wilson Collection was destroyed.*
Dunes at Sunset, 1995, acrylic on canvas, 24" x 36"
Dunes at Sunset, 1995, acrylic on canvas, 24" x 36"The Gulfport Library Collection
1996 Landscape Collection
Sunset Everglades, 1975, acrylic on canvas, 48" x 72"
Blue Bungalow, 1993, acrylic on canvas, 24" x 36"
Sunrise Cottonfield, acrylic on canvas, 18" x 24"
Full Moon, 1995, acrylic on canvas, 18" x 24"
Deep in the Bayou, 1970, acrylic on canvas, 22" x 32"
Yellow Marsh, 1996, acrylic on canvas, 24" x 36"
Dunes at Sunset, 1995, acrylic on canvas, 24" x 36"
Jungle, 1985, acrylic on canvas, 24" x 36"
Reflections, 1994, acrylic on canvas, 24" x 36"
Camouflage, 1996, acrylic on canvas, 30" x 36"
Approaching Storm, 1993, acrylic on canvas, 24" x 36"
Blue Cypress, 1993, acrylic on canvas, 26" x 36"
Shadows, 1994, acrylic on canvas, 25" x 30"
Lily Pads, 1978, acrylic on canvas, 36" x 49"
Causeway, 1994, acrylic on canvas, 24" x 48"
Buffalo State
Robert Wilson came to Buffalo, NY, in 1963, after being offered a position in the Design Department by Dr. Stanley Czurles, Director of Art Education at Buffalo State. By this time Robert had published several books on media, design and education, including "An Alphabet of Visual Experience" and "The Role of Crafts in Education". At the time, the Buffalo State Design department was a team of forward thinking artists and craftsmen from all over the United States.
Robert showed his work throughout the area and was a frequent guest artist and lecturer at colleges throughout the Northeast.
One of the many things that Robert enjoyed about living in Buffalo were the number of large historic homes that were not only affordable, but provided enough space for a large studio, library and a place to house his collections of art and antiques.
The Abstract Collection
Having begun his painting career in the early 1950's, Robert Wilson's work reflected the Abstract Expressionistic traditions that were prevalent at the time. Though non-objective in style, the content of his work always related to the artists personal experiences of time and place, and was characterized by the applications of many unusual materials and techniques.
Inspired by a 1981 sabbatical to India and the Far East, this series of work relates to the influences found in the cosmic branch of Tantric Art and Mandala symbols. His interpretations are characterized by formally balanced arrangements of transparent geometric shapes painted in a stone-like texture. The texture was a result of a unique process of painting on crumpled spray-painted canvas, and rthe imagery was arranged to represent the movements in time and space in relation to significant events in the artist's life. The work in this collection represents the major portion of this final abstract phase painted from 1984 through 1992.
The Landscape Collection
It was during the years that Robert Wilson taught design at Buffalo State College that he became best known for his landscape paintings. His painting style always addresses his keen personal observations of the various regions of the country where he lived and document the places and events significant in his life. The personal style of his work is characterized by the use of dramatic color, amplified space and intricate textural pattern and detail. The Buffalo State collection includes 18 examples of landscapes that represent various regions of the country painted during the years of 1970 - 1990.
2001 Collection
River Bend, 1967, acrylic on canvas, 40"x60"
Just Beyond the Ridge, 1975, acrylic on canvas, 30"x40"
Out of the Woods, 1974, acrylic on canvas, 36"x54"
Purple Mountains, 1974, acrylic on canvas, 30"x40"
Chasm, 1974, acrylic on canvas, 30"x40"
Winter Field, 1974, acrylic on canvas, 36x48
2002 Collection
Bridge, 1970, acrylic on canvas, 22"x26"
Reflections, 1975, acrylic on canvas, 22"x30"
Autumn Path, 1972, acrylic on canvas, 16"x20"
Blue Mountain Lake, 1976, acrylic on canvas, 40"x42"
Dark Shadows, 1971, acrylic on canvas, 22"x36"
Along the Great Divide, 1981, acrylic on canvas, 24"x36"
Ravine, 1980, acrylic on canvas, 30"x40"
Blue Jays, 1990, acrylic on canvas, 24"x30"
Summit, 1989, acrylic on canvas, 30"x40"
Campfire, 1991, acrylic on canvas, 24"x36"
Island, 1992, acrylic on canvas, 24"x36"
Twilight, 1988, acrylic on canvas, 30"x36"
 
It's hard to imagine, when you're on the first leg of life's journey, which road or door will lead you to your goal. It was that way for me when I came to Buffalo State College in the fall of 1967. I, Marilyn Wilson, remember walking into the doors of Upton Hall with great excitement and anticipation. I was going to art school and I wanted to become a teacher! I made my way down the first corridor to room 107, Design 101. I opened the door and shyly took my seat. A tall and striking dark-haired man entered the room and introduced himself as Professor Robert Wilson. My life had just taken the turn that would begin my journey and allow me through the "Transforming Lives Campaign" to give back to the place responsible for shaping my professional and personal life.
In Professor Wilson's class, the knowledge of communicating ideas through the elements of art was first revealed to me. Throughout my four years, painting, photography and art history were my main vehicles for expressing this knowledge. Graduating with a Bachelors of Education and later with a Masters of Science, I began a very rewarding 40-year career as an art teacher with the Buffalo Public Schools. I taught every grade level from Elementary to High School, and for many years my efforts were rewarded with the opportunity to mentor art student teachers from Buffalo State in my classroom. It was a great privilege to share my teaching experience with them, and after retiring, I was able to continue this relationship when I was invited by the Art Education Department, to be a student teacher supervisor. I concentrated on inner-city placements and later taught several art courses for non-art majors. It was very fulfilling to continue to teach and hopefully inspire students along the way.    
In 1996, when Robert died, I was faced with the task of how to share the many works of art that he had created throughout his life. It occurred to me to donate his work to the places that had the most influence on his life. Beginning with the library in his childhood home of Sullivan, Indiana, then California State University, where he received his educational and fine arts degrees. I lastly donated a collection of 36 regional landscape and abstract works to Buffalo State where he spent the majority of his teaching and painting career until his retirement in 1986.
As part of the "Transforming Lives" Buffalo State Campaign, I am honored to establish The Robert C. and Marilyn L. Wilson Painting Scholarship, an endowment fund that will provide Scholarships to students in the Fine Arts Department with a declared major in painting. In addition, two new paintings and a plaque honoring Robert Wilson's work will hang in Upton Halls newly named Robert C. and Marilyn L. Wilson Advanced Painting Studio. For me, this endowment not only provides a place to acknowledge the career and work of Robert, but also provides a hands-on environment to connect with students committed to painting.
I am committed to giving back. Teaching and creating art is a lifelong process, one that cannot be "retired from." It is a privilege and a responsibility to be able to continue to interact with students, share your knowledge and experience with them, and to continue to make a difference in someone's life.
So, as I once again take familiar steps through the doors of Upton hall and make my way to this exciting and new painting studio where I once aspired to be an artist and teacher, it gives me great comfort to realize that I have come full circle and accomplished my greatest life goal. As Robert  and I were both inspired and privileged to teach and paint here during our time at Buffalo State, I hope that this gift and space will inspire future students in the arts for many years to come.