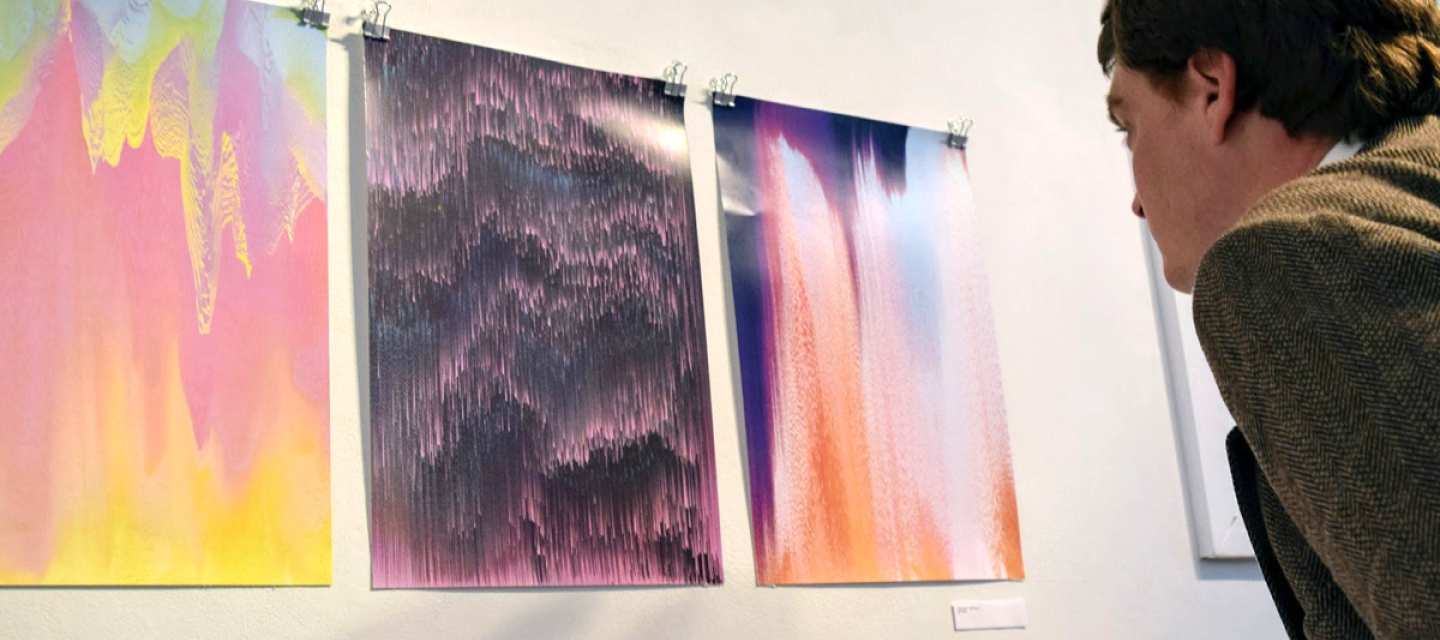 Are You Motivated, Curious, Disciplined, Passionate?
Are you interested in a career in which you will be continuously challenged to adapt and learn new technology while solving creative problems and create messages that impact people a personal and emotional level? Graphic Design is visual communication through visual forms such as animation, web design, print, game design, motion graphics, way-finding, branding, and other forms that aren't yet invented. Graphic Design at Buffalo State provides you with cutting edge instruction in new media, industry-current software, and traditional tools in this lively and rapidly expanding field.
Graphic Design Concentrations
Our Courses
The Graphic Design BFA program is designed to prepare you for successful employment in an industry with a rapid influx of new technologies. Due to the heavy technical requirements the industry demands from our graduates, we continually evaluate our course offerings and update them accordingly.
You'll Learn How To:
Utilize 3D software for illustration, animation, and visualization
Create objects and environments for use in games
Create virtual packaging and product visualizations
Create motion graphics that animate branding systems, and communicate a message
Design for the web; create intuitive, interesting and informative websites
Design for print; magazines, books, packaging
Create way-finding systems and environmental graphics
Design conceptually creative and persuasive advertising campaigns
Illustrate with a variety of media from hands-on to digital
Mount an individual exhibition in a local gallery
Design and create an individual portfolio, both digital and traditional
Have the poise, demeanor, and professional acumen to begin a satisfying and meaningful career in design
We're Accredited
The Graphic Arts Concentration is accredited by the National Association of Schools of Art and Design (NASAD).
SUNY Buffalo State Fall '21 Student Animations
Real World Experience, Designing Success
The Graphic Design concentration includes an extensive internship requirement with which our students obtain critical professional experience. Most students do their internships locally, but some have landed internships in London, Los Angeles, New York City, and other metropolitan areas.
Graduates from the Graphic Design concentration are employed by many design studios, advertising firms, marketing agencies, web, non-profit organizations, the music industry, news and print companies in the Western New York area and across the country. 
Our graduates are employed at NBC Universal, Verizon Wireless, Fisher Price, Yahoo, Xerox, Uniland Development, The Mechanism, Fuel Interactive, Hilton Worldwide, Buffalo Sabres, Block Club, Quinlan & Co., Clever Method, Buffalo Spree, Blue Cross Blue Shield, NOCO Energy, Local Edge, P22 Type Foundry, CGI Communications, The Martin Group, Eric Mower & Associates, The Buffalo News, and Art Voice.
Traditional fields of newspaper, magazines, advertising specialties, or sign companies, continue to exist. Many businesses that employ more than a dozen employees often have an in-house design department.
Advisement
Every Graphic Design student must be advised every semester.
Bring a printed copy of your Degree Works page (save as a PDF, then print.)
Registering for Classes
Do not put off registering for classes.
If a class is not full, it may not run.
Payment of tuition is not due until several weeks after classes begin, so be sure to sign up for your classes as soon as possible!