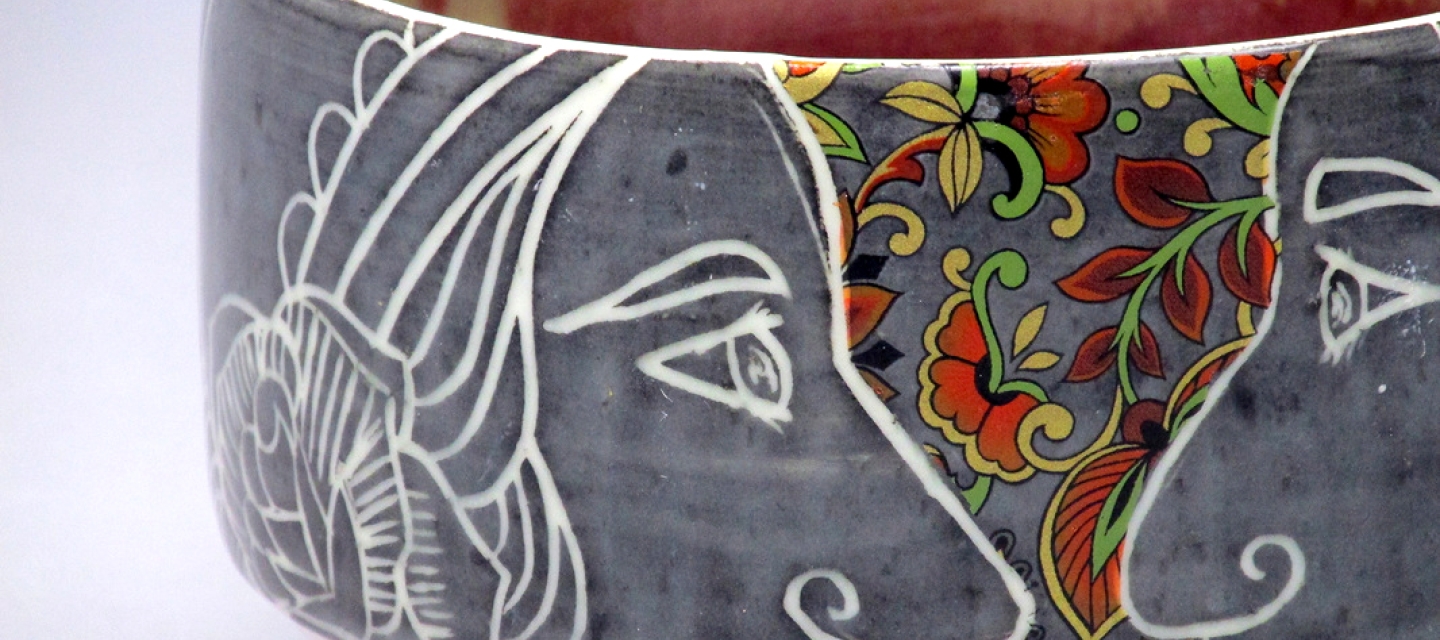 Ceramics
The ceramics concentration program prepares students to produce work of professional competence in various clay media focusing on mastery of relevant technical skills and creative expression with a strong emphasis on concept, craftsmanship, design, and aesthetics. Our goal is to inspire creativity, conceptual development, and individual expression in both functional and/or sculptural ceramics. 
About the Ceramics Concentration
You'll Be Prepared
Our 79-credit hour degree prepares students for advanced studies, graduate studies, or for beginning careers as professional designers or artists. The remaining credit hours are completed in required Intellectual Foundations courses.
We'll Challenge You
The primary aim of the ceramics program is to challenge the art/design student to think creatively, both critically and self-critically; to inquire, create, learn, and grow in a quest for personal expression within the field of visual art/design.
We inspire students to seek their individual identity as a visual designer/artist, whether it be functional or sculptural ceramics.
Our program goes beyond standard technical solutions so students have the training, judgment, and flexibility to perform competently in the field and to acquaint themselves with the technological knowledge necessary to succeed in areas of functional or sculptural ceramics.
Creative Energy
We provide an energetic atmosphere that will enable the art/design student to develop their creative intellect and potential, through expanding and broadening their skills and discipline, strengthening their confidence in their abilities, and developing problem solving capabilities. We instill excellence and the commitment to excellence. We encourage our students to take risks and go beyond the "standard solution". 
The Artist's Language
We instill the verbal/visual vocabulary of the artist/designer, and how to use this vocabulary to translate their ideas and feelings into a synonymous three-dimensional form that reflects these ideas and feelings. This development is rooted in a strong foundation of the fundamental techniques which are necessary for personal experimentation and investigation of clay as an individual statement.
Students are expected to assume the costs of materials used in courses.
Some studio courses may have an additional charge for materials used in class.
Students enrolled in a studio course are expected to work a minimum of two additional hours each week outside of class for each credit granted for that class and the hours gradually increase as the student progresses in the major.
The Art and Design Department reserves the right to temporarily retain students' work for official purposes, such as exhibitions, program display, special events, and recruitment, etc.; and to use images of the students and/or their work for publicity, documentation, and recruitment.  Some programs may retain projects for longer periods of time due to accreditation and assessment requirements.  
Visiting Artists
Past visiting artist demonstrators include: Travis Winters, Jamie Bates Slone, Patrick Coughlin, Doug Peltzman, Linda Cordell, Brian Giniewski, Christina West, Brad Schwieger, Heather Mae Erickson, Peter Pincus, Tom Bartel, Melissa Mencini, Peter Beasecker, Kensuke Yamada, Daniel Teran, Tim See, Mike Jabbur, Frederick Bartolovich, Shane Keena, Susan Beiner, Gail Heidel, Gary Schlappal, Jason Briggs, Richard Aerni, Chris Dufala, Ben Wilton, Chanda Glendinning, Carrianne Hendrickson, Rick Nickel, Jerry Smith, Ann Perry-Smith, Jeff Kell, Lori Mills, Bill Stewart, Marvin Bjurlin, Carl Shanahan, Dick Hay, Mitch Messina, Bryan Hopkins, and Moi Duggan.
Resident Artist Program
The ceramics program offers a year-long resident artist program for recent Buffalo State B.F.A., M.S. or M.A. ceramics alumni, allowing them time to work on expanding their portfolio in preparation for graduate school or for further career development. 
Ceramic Artist, Andrea Pawarski Talks About Her Love for Ceramics
Facilities and Equipment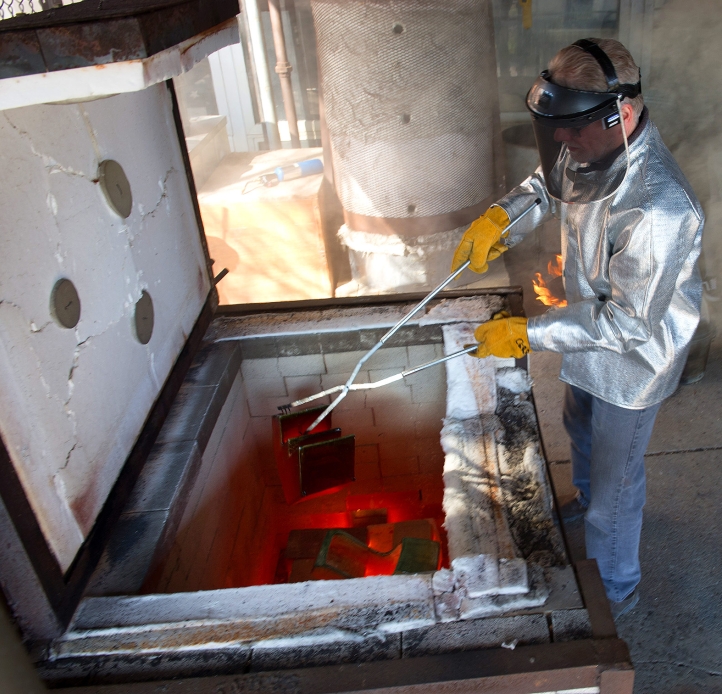 Facilities
The ceramics program occupies a 12,400-square-foot, well-equipped studio space including: 
Three primary classrooms/studios
Glazing room
Clay mixing room
Glaze mixing room
Mold making room
Computer lab
Resource room
Photo area
Indoor kiln room with 12 electric and 4 gas kilns
Outdoor kiln area with raku, pit, soda, and wood-fire kilns.  
Studios are open seven days a week, allowing unlimited access to the facilities during the academic year.
Indoor areas utilize electrostatic and/or HEPA ventilation.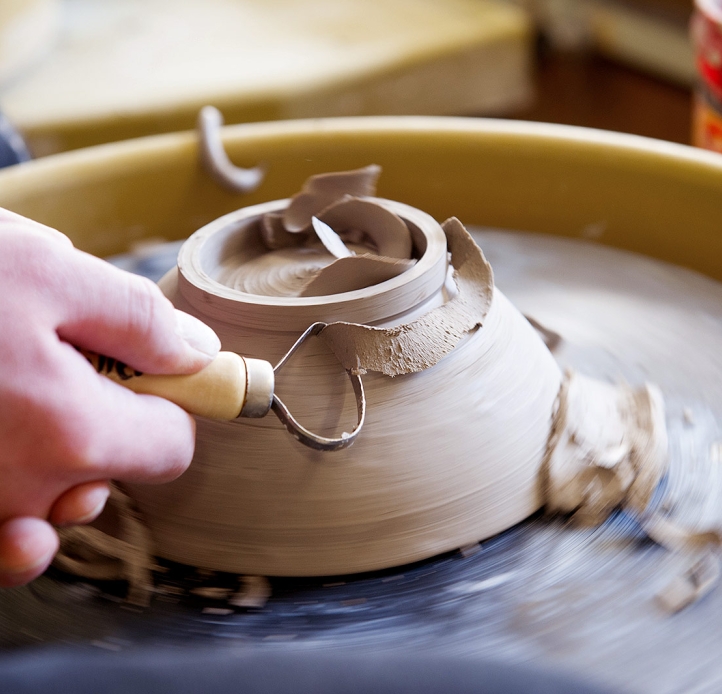 Equipment
30 pottery wheels
Two slab rollers
Two extruders
Clay mixer
Two clay mixing puggers
Slip mixer
Slip casting table
Jigger/jolly
24" wet lap grinder
Wet belt sander
Various grinders
Tile saws, band saw
Drill press
Sandblaster
Four spray booths
Electric drying cabinets
Ball mill
Gram scales
Electronic scales
Black decal printer
Sepia decal printer
3D clay printer
Small hand tools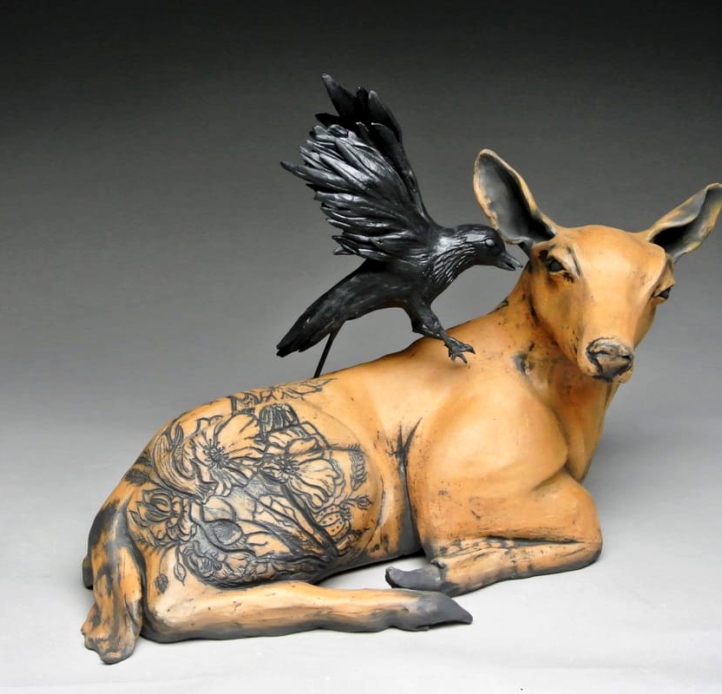 Creativity, Concept, Expression
We offer wheel-throwing, hand-building, mold making, slip-casting, clay formulation, glaze formulation, kiln theory, and studio practice. Our focus is to promote creativity, conceptual development and individual expression in both functional and sculptural ceramics.
Coalition of Ceramic Designers (C2D) 
C2D is a USG-funded student organization focused on educating those interested in the ceramic arts. Students build community by bringing in ceramic artists for demonstrations and lectures, host kiln-firing events, and collaboratively present their work in local galleries.
C2D on Instagram